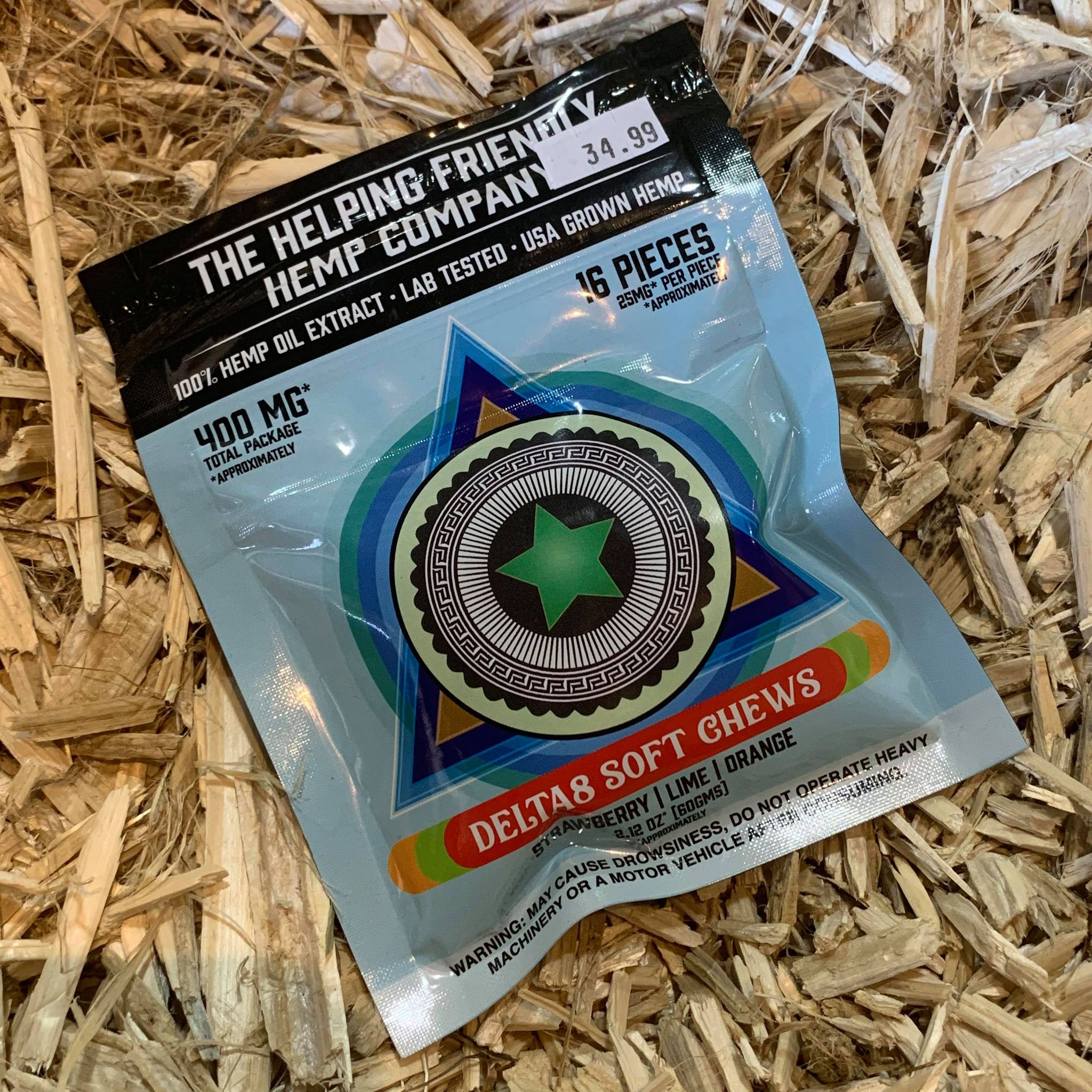 Delta 8 Soft Chews 400mg
These deliciously fruity soft chews contain Delta 8, a cannabinoid that can provide medicinal relief alongside psychoactive effects. This package has 400mg Delta 8, with each gummy at 25mg Delta 8.
Product Details:
-Package contains 400mg of Delta 8
-Contains 16 gummies, 25mg per gummy
-Non GMO
-Lab Tested
-GMP Certified
Price: $34.99
Product Details
Directions
Delta 8 Soft Chews 400mg Details
Delta 8  THC is a cannabinoid that was legalized by the farm bill. Many people find this cannabinoid beneficial for anxiety, depression, pain, and nausea. It can be taken in various forms, such as these delicious gummies. Take with caution, as Delta 8 impacts everyone differently, and do not operate heavy machinery or drive a car under the influence of Delta 8. Sit back, relax, take 1 gummy (25mg) and let the medicinal benefits relieve you.
Learn more here!
Ingredients:
Tapioca Syrup, Cane Sugar, Water, Gelatin, Agar, Locust Bean Gum, Sorbitol, Natural Flavors, Citric Acid, Hemp Extract, Natural Colors (From Radish, Carrot, Pumpkin, Apple, Spirulina Extracts), Coconut Oil, Carnauba Wax.
Delta 8 Soft Chews 400mg Directions
Suggested Use:
-Take 1 gummy per serving. Do not exceed more than 2 servings a day.
CAUTION: Do not drive or operate heavy machinery after taking. Do not take if pregnant or breastfeeding. Not for sale to persons under the age of 21.